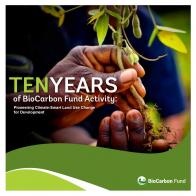 Since it was established in 2004 as the first carbon fund devoted to land use, the BioCarbon Fund has supported projects that transform landscapes and directly benefit rural communities and families. Working on more than 20 projects in 16 countries, the BioCarbon Fund has engaged national entities, private firms, and non-governmental organizations in its charge to restore degraded lands, reduce deforestation, plant trees, and help increase yields. As a result of these projects, 15 million tons of CO2 has been sequestered and the release 5 million tons of CO2 has been avoided in their first 20 years of operation.
In 2020, the team published a report summarizing the insights and experiences from these emission reductions projects in the land-use sector over the past two decades.
BioCarbon Fund projects have helped to restore and protect ecosystems and supported land transformation. By planting trees, erosion on degraded land has been halted and reversed. By reducing deforestation, fragile ecosystems and biodiversity have been protected. By adopting sustainable land management techniques, productivity of agricultural systems has been revived or increased. In all cases, tons of CO2 have been sequestered from the atmosphere or avoided being released into the atmosphere, thereby mitigating climate change. Further, the BioCarbon Fund has helped link global level climate change mitigation approaches to on-the-ground social and environmental benefits.
Impact on rural communities
BioCarbon Fund projects have important economic, social, and institutional co-benefits that are key incentives for local communities to participate in project implementation. Social benefits have included opportunities for greater land tenure security, new revenue streams for communities with limited sources of income, and improved income from higher yields in agricultural, timber or wood fuel products.
Notable achievements of the BioCarbon Fund include:
First issuance of carbon credits for a forestry project under the
Clean Development Mechanism (CDM), globally and also in Africa;
First registered Afforestation/Reforestation (A/R) CDM project;
First registered CDM project in a number of countries (such as Albania, DRC, Ethiopia);
First A/R methodology approved under the CDM;
First methodology for carbon benefits from sustainable land management approved under the Verified Carbon Standard (VCS2);
Nine carbon accounting methodologies developed and approved;
Tools for carbon modeling and monitoring developed; and
Capacity built for various stakeholders including project entities, governmental agencies, policy-makers and project auditors.
The BioCarbon Fund has learned lessons from its pioneering projects and carbon accounting methodologies across different standards, leading the way for the next generation of activities in the form of the new BioCarbon Fund Initiative for Sustainable Forests and Landscapes (ISFL).
On-the-ground Examples
Zambia: Making Conservation Profitable for Small-Scale Farmers
Rainforest conservation in Madagascar gets $1.4 million boost
Madagascar: Ankeniheny-Zahamena Corridor Biodiversity Conservation (REDD+) project (1.13 MB PDF)
Kenya: Sustainable Agriculture Land Management project (229.72 KB PDF)
Ethiopia: Humbo Assisted Regeneration project (1.21 MB PDF)
Lessons Learned
Insights and Experiences from the BioCarbon Fund Emission Reductions Projects in the Land-Use Sector: An Overview
From Project to Global Public Good: The story of the Plantar Group – World Bank Partnership (1.19MB PDF)
BioCarbon Fund Experience: Insights from Afforestation / Reforestation CDM Projects (1 MB PDF)